Custom Fibre Bragg Grating
O/E LAND INC is capable to provide wide range of customized fibre gratings for R&D prototype and mass production purposes. Fibre grating wavelengths can range from 400 nm to 2175 nm. We offer many types of custom made fiber Bragg gratings like:
Uniform fibre Bragg grating (FBG)
Chirped fibre Bragg grating
FBG in single mode fibre, multimode fibre, PM fibre, doped fibre, double cladding fibre
Tilted FBG (blazed FBG)
Phase shifted FBG
Linear FBG
Transmission type FBG
Apodized FBG
Multiple FBGs in a single fibre
Examples:
Broadband reflection mirror: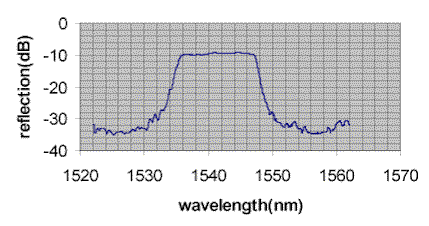 Linear Shape Fiber Bragg Grating: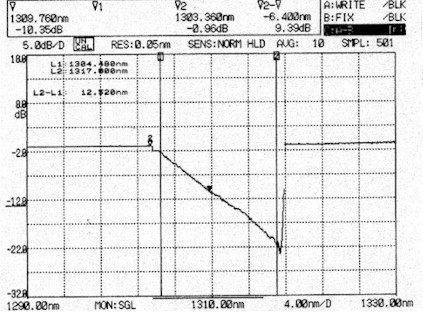 Tilted Fibre Bragg Grating
Fibre Bragg grating in multimode fibre: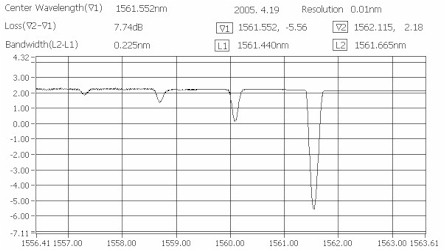 Ultra-Broadband (60 nm bandwidth) Reflection Mirror: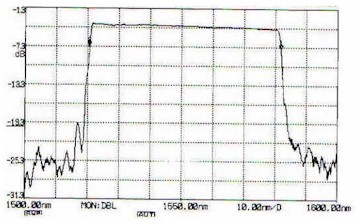 Phase shift fibre Bragg grating:
Features:
Quick delivery
Full engineering support
Cost effective
To manufacture and market fiber Bragg grating products, you need a fiber Bragg grating license. O/E LAND INC. has full License Agreement from CRC/UTC Fiber Bragg Grating Technologies Portfolio. Customers who use fiber Bragg gratings or incorporate fiber Bragg gratings with their own products must buy fiber Bragg grating from a manufacturer having a fiber Bragg grating license.
Note: All specifications are subject to change without notice.
Go back